Accademia Gallery Hours AND OTHER IMPORTANT INFO- 2023
If you're planning a trip to Florence, visiting the Accademia Gallery Museum is a must! You'll get to see Michelangelo's David, one of the world's most famous sculptures. This museum also houses many other sculptures and paintings from the Middle Ages and the Renaissance. Remember that the museum is usually quite busy, so it's best to plan to avoid the long queues. Don't worry, though. We are here to help! We have compiled some tips to ensure you get the most out of your visit to the Accademia Gallery Museum in Florence.
Accademia Gallery Hours
The Accademia Gallery Museum's opening hours are from 8:15 am to 6:50 pm Tuesday to Sunday. Monday Closed. (the last admission is at 6:20 pm).
Closed: January 1, December 25, every Monday
Address: Galleria dell'Accademia di Firenze, Via Ricasoli
58/60 50122 Florence, Italy.
You can get more details about Accademia gallery hours from the official website of the Accademia Gallery Florence.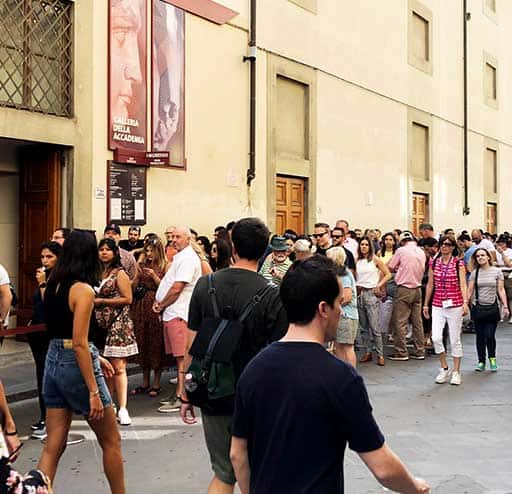 Evening openings at the Accademia Gallery in Florence – 2023
While remaining closed on Monday, From 13 June to 31 October 2023, the Accademia Gallery in Florence will be open to the public with extended hours throughout the summer, specifically:
– every Tuesday until 10 p.m. (last admission 9:30 p.m.);
– every Thursday until 9 p.m. (last entrance 8:30 p.m.)
Visitors can spend an evening with Michelangelo's David and the other outstanding artworks in the newly illuminated rooms.
Best day to visit the Accademia Gallery in Florence
If you're planning a trip to the Accademia Gallery in Florence, you might have heard it gets pretty crowded. But don't worry; we have some tips to help you make the most of your visit. First, try to visit during the low season from November to March, excluding Christmas. That's when it's the least crowded.
However, this may not always be possible. It's also good to know that the museum is closed on Mondays, and Sundays and Tuesdays are the busiest days of the week. Even on weekends, it's jam-packed.
If you want to avoid crowds, the best days to visit are Wednesdays, Thursdays, and Fridays.
So remember these tips and prepare to enjoy the beautiful artwork at the Accademia Gallery without dealing with massive crowds!
Best time to visit the Accademia Gallery in Florence
To make the most out of your visit to the Accademia Gallery, getting there early in the morning when the museum opens at 8.15 am is recommended. Alternatively, you can also visit after 5 pm. Just make sure to arrive early enough, or you may need more time to explore all the artwork.
Keep in mind that most people start showing up around 9 am, so arriving early can help you avoid the crowds.
How Long Does It Take To Visit Accademia Gallery?
The Accademia Gallery is open from 8:15 a.m. to 6:50 p.m. from Tuesday to Sunday, with the last entry at 6:20 p.m. Accademia Gallery is a small Museum compared to Uffizi Gallery. How long does a visit to the Accademia Gallery last? A visit to the Accademia Gallery can last between 30 and 90 minutes, depending on your interest and pace. On average, visitors take 1 to 2 hours to explore the entire gallery.
Suppose you're passionate about art and desire to fully immerse yourself in the works, taking your time to appreciate and learn more about them. In that case, additional time is necessary. Because once you exit the museum, you can not enter again using the same ticket.
Accademia Gallery Hours – Museum hours are open all weekday holidays, except for those mentioned above. As the Accademia is usually closed on Mondays, the Museum's board of directors and unions decide whether to hold a special opening of the museum on that Monday.
Accademia gallery location
Special Free Sunday opening at The Accademia Gallery 2023
Every First Sunday of the month, the State museums, including the Florence Accademia Gallery, are FREE.
These days this year, everyone is welcome to enter the Accademia Gallery for FREE.
The following days are not available for advance booking:
March 6 2023, April 2 2023, May 7 2023, June 4 2023, July 2 2023, August 6 2023, September 3 2023, October 1 2023, November 5 2023, December 3 2023.
Don't forget to book your entrance ticket in advance. Please read our Guide to buying tickets and Guided tours for the Accademia Gallery. You can bypass the long lines in Academia by using these methods.
Book Accademia Gallery reserved tickets and Guided tours 2023
Questions and Answers Regarding Tickets for the Accademia Gallery
Are online Accademia Gallery tickets available now?
Yes, of course. It is now possible to reserve your tickets for the Accademia Gallery online since they accept only digital reservations as of now.
What is the cancellation policy for Accademia Gallery tickets?
You will need to check the details of your Accademia Gallery ticket when making your reservation. Some tickets offer the opportunity to cancel your tickets up to 48-72 hours in advance and receive a full refund, but for other tickets, you may not be able to get a refund if you cancel your ticket. It is very important that you check before making a reservation.
Do I need to book tickets in advance to enter the Accademia Gallery?
You're right. As the Accademia Gallery now accepts online reservations, it's a good idea to make your reservation online so that you can book your preferred date to visit the gallery.
Do Accademia Gallery tickets include skip-the-line access?
The Accademia Gallery tickets include skip-the-line privileges, which allow you to avoid the lines that are usually formed to enter the museum.
Are guided Accademia Gallery tours available?
Yes, you can now book a guided tour of the Accademia Gallery for your convenience. It would be necessary for you to book these tours specifically in advance.
How do I get to the Accademia Gallery?
It is about a 20-minute walk east of the train station to reach the Accademia Gallery. It is located just a few steps away from Piazza San Marco ( Via Ricasoli 58/60, 50122 Florence ). You can visit both the Uffizi Gallery and the Accademia Gallery on the same day because they are located close to each other.
Academia gallery ticket prices and other important information are available here.
Please note that this page includes affiliate links for third-party products and services
Florence Travel Guides You May Like – 2023
Links you might find useful