Accademia gallery skip the line tickets – Tickets in Accademia Gallery
Secure your Priority Entrance Tickets for the Accademia Gallery ahead of time!
Experience the illustrious Accademia Gallery without enduring the hassle of long queues. Say goodbye to waiting and embrace convenience with our Skip the Line tickets, offering priority access to the Accademia Gallery. Your time is precious, and we understand that.
Plan and purchase your Skip the Line Accademia Tickets in advance or on the go when you find yourself close to the gallery. Gain exclusive entry to Florence's globally acclaimed Accademia Gallery and immerse yourself in the Medici collections of the Renaissance alongside the awe-inspiring statue of David by Michelangelo. A visit to this extraordinary establishment is an absolute must for any visitor to Florence.
With our priority ticket, you'll effortlessly bypass the lengthy lines and swiftly enter the museum. Securing access for a specific time slot is the key to skipping the queue. Arrive just a few minutes before your designated time, and you'll effortlessly glide past those patiently waiting without reservations. No additional payments are required — you're all set to embark on your unforgettable journey.
Background Info Accademia Gallery
One of the most sensational museums in Florence, an unmissable destination for all art enthusiasts, is undoubtedly the Accademia Gallery. Located at Via Ricasoli 60, right in the historic city center, it is home to the most significant number of Michelangelo's sculptures worldwide, totaling 7, with the renowned and beautiful David standing out.
But it's not just Michelangelo: inside the Accademia Gallery, which opened its doors back in 1784, you can explore the world's largest and most significant collection of gold-ground paintings, as well as a collection dedicated to musical instruments.
Divided into 12 rooms and a series of exhibition paths, the Accademia Gallery is owned by the Ministry of Cultural Heritage and Activities and has enjoyed special autonomy since 2014. Today, it is under the direction of Cecilie Hollberg, and it welcomes nearly two million visitors annually.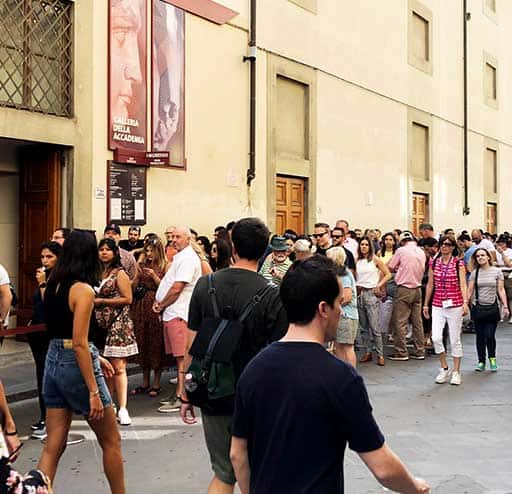 Why is it called the Accademia Gallery
The curious name of the museum derives from its foundation: in 1784, Grand Duke Pietro Leopoldo of Lorraine established the Academy of Fine Arts, an institution that brought together various existing and past entities, such as the Academy of Arts and Design founded by Cosimo I almost 200 years earlier.
Alongside the Academy of Fine Arts, a gallery was immediately established where students could find artworks to study and imitate for better art education. Initially, this new gallery of the Academy of Fine Arts showcased Giambologna's "Rape of the Sabine Women" and the "Allegory of Florence Dominating Pisa," which is now located inside Palazzo Vecchio, alongside some plaster casts and a series of old paintings from the Academy of Design.
Over time, this gallery expanded, incorporating paintings from various sources and acquiring several artworks around 1817. Today, the Accademia Gallery is the culmination of everything that has happened along its corridors throughout centuries of history
Florence Travel Guides You May Like – 2023
Why You Should Get Accademia Gallery skip the line tickets?
Avoid Ticket Lines: The Accademia Gallery is a beloved destination for art enthusiasts and history lovers in Florence, resulting in long queues at the entrance. Opt for Accademia Gallery skip-the-line tickets and bypass the ticket lines altogether, ensuring a hassle-free experience.
Save Time: With so much to discover inside the Accademia Gallery, why waste precious moments waiting in line? By skipping the queue, you can dedicate your time to immerse yourself in the gallery's remarkable artworks fully and delve into their rich narratives.
Embark on a Guided Tour: Enhance your visit with an Accademia Gallery guided tour, which includes skip-the-line privileges. Not only will you breeze past the crowds, but you'll also benefit from the expertise of a knowledgeable tour guide who will provide insights into the attraction and its masterpieces.
Unleash Your Curiosity: By utilizing skip-the-line tickets, you save time and effort and unlock opportunities to explore other nearby attractions, such as the Uffizi Gallery and the Florence Duomo. Expand your horizons and make the most of your visit to this captivating city.
Skip The Line Ticket Options for Accademia Gallery
Skip the Line Tickets vs. Guided Tours: Which to Choose?
Skip the Line
Perfect for independent explorers seeking flexibility and control over their itinerary.
It is suited for visitors well-versed in the history and importance of the Accademia Gallery, eliminating the need for a guided tour.
It is highly recommended for time-conscious travelers yearning to bypass lengthy queues.
Guided Tours
Ideal for those craving an immersive and educational journey, with opportunities for inquiries and personalized assistance.
Well-suited for visitors with a keen interest in uncovering the museum's historical and cultural significance through the guidance of a knowledgeable tour expert.
Select tickets with reserved entry to skip the extensive lines effortlessly.
Which Entrance Do Accademia Gallery Skip the Line Ticket Holders Use?
The Accademia Gallery offers two entrance points: the Red Point for online reservations and the Blue Point for the ticket office.
Red Point: If you have pre-purchased your tickets online, acquired skip-the-line tickets, or booked a guided tour, head to the dedicated online reservations entrance. An assistant will be available at the door to verify your ticket and grant you access.
Blue Point: The ticket office is located here. If you still need to obtain your tickets in advance, you can visit the ticket office to make your purchase. Please note that there may be a waiting time of 15 minutes to an hour to obtain your tickets.
Tips for visiting the Accademia Gallery
The Accademia Gallery is one of Florence's most beautiful and exciting museums: follow these tips to make the most of your day.
Allocate sufficient time for your visit to the gallery. Don't rush; plan for approximately two hours, which could extend to half a day if you stop to read all the informative notes.
Not just David. Certainly, Michelangelo's sculpture is the museum's star, but there isn't anything else to see beyond it.
There is always a large crowd around David. If you want to enjoy it in relative peace, visit the Accademia Gallery outside the busiest hours of the day. Plan an early morning visit on a weekday during the low season.
Avoid carrying excessive belongings, but take advantage of the cloakroom to store coats and bags if needed.
Prefer purchasing your entrance ticket online: you'll bypass the ticket counters queue and be assured of securing a spot on your chosen day.
Opening Hours & Best Time to Visit Accademia Gallery
The Accademia Art Gallery is open Tuesday through Sunday, 8:15 am – 6:50 pm.
This museum is closed every Monday, January 1, May 1, and December 25.
The early morning hours 8:15 AM to 9:00 AM offer a truly splendid opportunity to have the museum all to yourself, as it is much quieter during this time. For all other time slots, we highly recommend purchasing skip-the-line tickets in advance. Alternatively, you may consider one of the two passes below for better rates:
How To Get To Accademia Gallery?
From Santa Maria Novella train station is about a 10-15 minute walk to either Uffizi or Accademia Art Gallery. If you wanted to try and make it from one museum to another you will need a map as there are many small streets in between.
The Accademia Gallery is very close to San Marco Square, where many bus lines stop: 1, 6, 7, 10, 11, 14, 17, 20, 23, 25, 31, 32, and 52. You will indeed find the one that suits you! Once you get off the bus, walk a little over 100 meters along via Ricasoli: the entrance to the Accademia Gallery is at number 60.
Address: Via Ricasoli, 58/60, 50122 Firenze FI, Italy
Frequently Asked Questions About Accademia Gallery Skip the line Tickets
How do you skip the line at Accademia Gallery Florence?
You can skip the line at Accademia gallery Florence with make Online Reservations, Book in Advance your tickets, Get Skip the Line Tickets and book a Take a Guided Tour.
Can you buy tickets to Accademia Gallery at the door?
Tickets can also be conveniently purchased from the ticket office at the Accademia Gallery and on the official website. If you prefer to buy your ticket at the entrance, please ensure that you arrive before the ticket office closes at 6:20 pm. Admission fees are €12 per adult, and children under 18 can enter for free.
Does Firenze Card allow you to skip lines?
Yes. The Firenze Card is Florence's Museum Card, providing complimentary access to Florence's major museums, churches, villas, and historic gardens. Along with skip-the-line tickets, the card grants visitors free use of the city's public transport throughout its 72-hour validity period.
Why should I book Accademia Gallery skip the line tickets?
Accademia Gallery skip-the-line tickets will help you save about 1 or 2 hours of waiting time, especially during the summer season. You can use this time to explore the artworks in a more peaceful place.
Are Accademia Gallery skip the line tickets worth it?
Yes, Accademia Gallery skip-the-line tickets will help you save up to 1 – 2 hours of waiting time, especially on hot summer days.
How long is the wait at Accademia Gallery?
The Accademia Gallery has only one main entrance. So If you have a regular ticket, the typical wait time at the entrance to the Accademia Gallery is 20 minutes to two hours, depending on when you visit. Normally Tuesdays and weekends are very busy. The type of ticket you have and the entry you are using also affect the average wait time. We always recommend buying skip-line tickets in advance.
Links you might find useful