The Medici Chapels are one of five museums that comprise the Bargello Museums and are majestically situated behind the Basilica of San Lorenzo. While the Chapels are part of the San Lorenzo complex, bureaucratically they are a separate site from the Bargello Museum, Palazzo Davanzati, Casa Martelli, and Orsanmichele.
San Lorenzo is historically the parish church of the Medici, which is why Grand Duke Ferdinand III of Lorraine chose to move the family members' remains here in 1791. In spite of their differences, the two remain inextricably linked as symbols of the Medici family and the power they once held in Florence:
The crypt and Treasury
A visit to the Medici Chapels begins in the crypt, one of four sections within the museum. The tombs of the Medici grand dukes and their families are here, including those of Cosimo I and Eleanor of Toledo, Giancarlo de' Medici and Vittoria della Rovere, and the last heir, Anna Maria Luisa, whom Florence owes the protection of her treasures.
The Chapel of the Princes
The octagonal space is fit for a king, or in this case, a grand duke, with its jaw-dropping splendor. Designed by Cosimo I to be a monumental family tomb, the mausoleum is entirely covered by polychrome marble and semiprecious stones. The chapel was designed by Giorgio Vasari, court painter and long-time friend of Cosimo I, but construction didn't begin until much later, in 1602, when Matteo Nigetti was chosen to oversee the project.
The New Sacristy
Before Michelangelo's definitive departure to Rome in 1534, this part contains a set of works he created during the decade before he left. This space, aptly named the New Sacristy, is located adjacent to the Old Sacristy, where four members of the Medici family are buried. Originally accessible through a small door in the church's right nave, it is now only accessible to museum visitors. It was Pope Leo X who commissioned the sacristy to be completed when the Duke of Nemours died in 1516 and the Duke of Urbino died in 1519. Michelangelo was tasked with the job while he worked on the façade of the church, which remains unfinished to this day.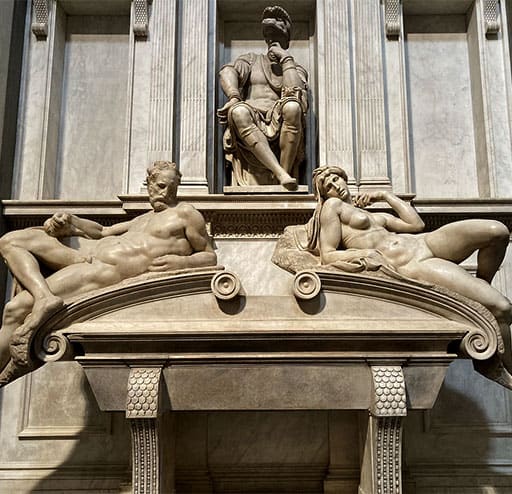 MEDICI CHAPELS – ( CAPPELLE MEDICEE ) FLORENCE TICKETS & INFO
Here you can find all the information you need for MEDICI CHAPELS in Florence
MEDICI CHAPELS – OPENING HOURS
TIMETABLE 2022
Address
Piazza Madonna degli Aldobrandini 6, at the back of the Basilica of San Lorenzo
Opening hours
Open every day from 8:15 am to 2 pm, the ticket office closes at 1:20 pm.
Days of closure
Closed on the 2nd and 4th Sunday of every month and 1st, 3rd, and 5th Monday of every month, New Year's Day, May 1st, and Christmas.
---
MEDICI CHAPELS – TICKET PRICES
Ticket
Full € 8,00
Reduced € 2,00
The Museum adheres to free entry for all visitors on the first Sunday of every month between October and March.
VISIT MEDICI CHAPELS IN 2023
LEARN MORE ABOUT FLORENCE'S OTHER ATTRACTIONS
Links you might find useful